BrainWaveProducer - Explore the great potential of your Brain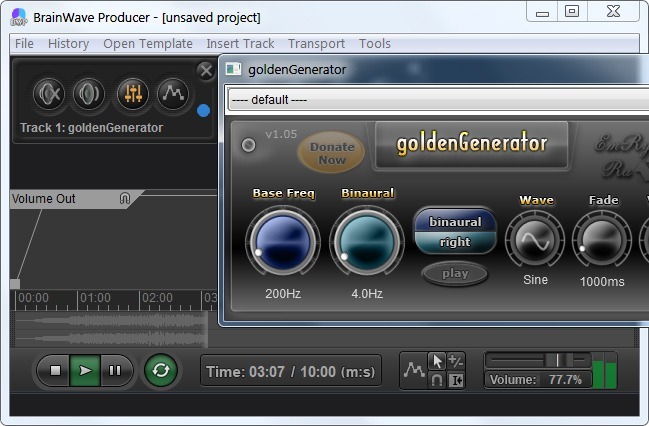 Price: 39.00 €

Binaural Beats in Two Clicks!

BrainWaveProducer it's a

sound therapy software

that uses multiple plugins (tracks) to generate and process the sound. Because it's modular, the program can be used with maximum success by both beginners and advanced in the field of therapeutic sound production and brainwave entrainment.

The program offers you everything in the field of sound therapy: production of binaural beats, monaural beats, isochronic tones, subliminal sounds, insertion of audio samples and their processing by using delays, reverbs, filters, limiter etc. *

All this with an extremely easy to install, use and very inexpensive with your hardware resources.

BrainWaveProducer - minimal DAW but all what you need for Sound Therapy!

What's special:

Modular software that uses VST technology for audio plugins. So you can upload only what is needed for each project.
It can produce the full range of therapeutic sounds: binaural beats, monaural beats, isochronic beats as well as subliminal messages.
Very handy and user friendly, BrainWaveProducer consumes very low resources without compromising the audio quality and sound complexity! Because it is portable, it is very easy to install and move to another computer.
Envelopes for controlling and modulating all frequencies. Frequencies can also be modulated by using LFOs included in plugins.
Complex neuropsychic effects: hemisphere synchronization, controlled mental states, extended states of consciousness. Frequencies pass through all ranges of mental states: epsilon, delta, theta, alpha, beta, gamma, lambda
Templates from the full range of therapeutic sounds: binaural beats, monaural beats, isochronic, white and pink noise, nature sounds, atmospheric sounds, tibetan meditation sounds, tibetan bowls, shamanic drums etc
FREE version with no limit time period.

Features:

Ability to insert VST plugins (tracks) extremely easily.

They can be mute or solo.

You can open the graphical interface for each plugin where you can change all the parameters.

You can use the presets in the list of each plugin that represents a configuration of settings for the parameters of the plugin intended to produce a certain effect.

Envelopes for all parameters of the loaded plugin.

It consists of several points where values can be set for that parameter.

The transition between points it's a linear one.

Volume indicator and red warning for high

volume

limit.

Some plugins can generate golden waveforms - the most effective waveforms for therapy and brainwave entrainment.

It can be downloaded in two versions, one minimal (light), easier to download, install and test and the other complete with lot of templates and samples.

Over a hundred of templates if you download the full version. Some examples of binaural, isochronic and monaural wave generation. Examples of how to insert sounds from nature, tibetan bowls, bells and atmospheric sounds. Special health folder. Special folder for different states of consciousness.

Hundreds of presets inserted in plugins.

Audio samples with natural sounds, tibetan bowls, bells,

meditation sounds

,

background instruments and even music.

Remember the large history of changes as well as the possibility to restore the old configuration of the software to the next opening.

Envelopes tools for edit points envelope: moving tool, add/delete tool, magnet tool and key input tool
Free version with no limit time period but: maximum two tracks, maximum two envelopes and can export wav files only.

Requirements:

Windows Vista or later, 32/64bits and MacOS 10.7 or later

Changelog:

2.6 (2023-09-20)

2.4 (2023-08-15)

UPDATE: code improved. Two versions available: 32bits ad 64 bits.

2.2 (2021-12-24)

UPDATE: offine unlock key builder

2.1 (2021-11-15)

FIXED: pongDelay and templates loading problem

2.0 (2021-11-01)

UPDATE: ogg export speed improved. Mac version

1.3 (2021-06-10)

1.2 (2020-11-22)

1.1 (2020-11-06)

UPDATE: added binauralSynth and goldenSynth plugins (tracks)

* Availability of this features depend by what plugins you bought separately.
Easy to use and extremely low resources
Very nice minimal DAW with a very good plugin set.

I really dont have anything to add just because its a perfect combination. Bought it and love it.
Date: 2022-12-06 by
Dgrl83
I download Binaural Generator and love it BUT !
I wonder , can you make it that we can target frequency that are higher that 1500HZ , i want to experiment with the full spectrum till 20000hz.
or is this program can do that ? ill buy it for sure if it does !
ok another thing , I want to target binaural that are higher than 40 HZ too.
So , Base frequency 20 to 20k
and binaural 0.2 to 500 can be nice !!
Is it hard to adjust that ? will buy for sure if those 2 things are available !
thanks in advance.

Date: 2022-10-11 by
Gravisnation
All paid versions have this features
Hello,
All paid versions from
https://vst.saschart.com/music_therapy_vst_plugins_c
have base frequency from 20 to 20KHz and binaural from 0Hz up to 512Hz
More, binauralTones have binaural up to 10KHz, binauralSynth and binauralSynth have base frequency starting from 1Hz
Date: 2022-10-11 by
SaschArt
unlock key
Where do I paste the unlock key?
Date: 2022-09-25 by
Craigbabino
The second set of templates
The second set of templates for BrainWaveProducer. Require BinauralTones.

This set it's free :)

How to use it: very simple, unzip, enter the desired category and open the chosen template.
Date: 2022-04-20 by
MMusic
Free templates for BrainWaveProducer
I made a set of templates for BrainWaveProducer. Works on the free version for both, the program and the plugins used, so it's completely free.

Content:

Body
1 DNA healing - goldewaves
2 DNA healing
3 Morphine, reduce pain - goldewaves
4 Morphine, reduce pain
5 Reduces stress and anxiety - goldewaves
6 Reduces stress and anxiety
7 Remedy for anger & irritability - goldewaves
8 Remedy for anger & irritability
9 Remedy for depression - goldewaves
10 Remedy for depression
11 Universal healing - goldewaves
12 Universal healing

Brain
1 Creativity increasing - goldewaves
2 Creativity increasing
3 Euphoria induction - goldewaves
4 Euphoria induction
5 Highest mental activity - goldewaves
6 Highest mental activity
7 Intuition - goldewaves
8 Intuition
9 Marijuana - goldewaves
10 Marijuana
11 Psychedelic fun - goldewaves
12 Psychedelic fun
13 Relaxation - goldewaves
14 Relaxation
15 Sleep induction - goldewaves
16 Sleep induction

Spiritual
1 Astral travel - goldewaves
2 Astral travel
3 Meditation state - goldewaves
4 Meditation state
5 Spiritual awareness - goldewaves
6 Spiritual awareness
7 Third eye opening - goldewaves
8 Third eye opening
9 Trance state - goldewaves
10 Trance state

Study
1 Focus and concentration - goldewaves
2 Focus and concentration
3 Intelligence - goldewaves
4 Intelligence
5 Memory - goldewaves
6 Memory
7 Stimulates mental clarity - goldewaves
8 Stimulates mental clarity
9 Study and learning - goldewaves
10 Study and learning

How to use it: very simple, unzip, enter the desired category and open the chosen template.

Enjoy!
Date: 2022-03-29 by
MMusic
It's my favorite
This program is fabulous and cheap, it's my favorite.
Date: 2021-07-02 by
Mtherapy
It's worth it the money
I've been using it for some time without any problems, six months in the free version then bought it, it's worth it.
Date: 2021-04-22 by
DanieleLancaster
Neuronal Pan Washing
I found a template that is fabulous - Neuronal Pan Washing.bwpr. I want to use this effect only in the first 5 minutes and then play only binaural. Can I ? How to do it?
Date: 2020-10-30 by
AuroraBate
Must add an envelope on the Track 1 for Volume parameter. Then make a fade out up to 5 min with two points.

Try this project
Date: 2020-11-04 by
FranciscoMata
Golden waves
Golden waves have a strong effect, better than other waves. I see that they can be done for free, thank you
Date: 2020-10-28 by
IramDougherty
https://www.ibloc.org/ibloc_administrare_s